"Orange Creamsicle Poke Cake is a wonderful addition to all your summer parties! A lovely vanilla cake that is bursting with orange flavor and topped with a fluffy orange and vanilla frosting that no one will be able to resist!"

Trish, Mom on Time Out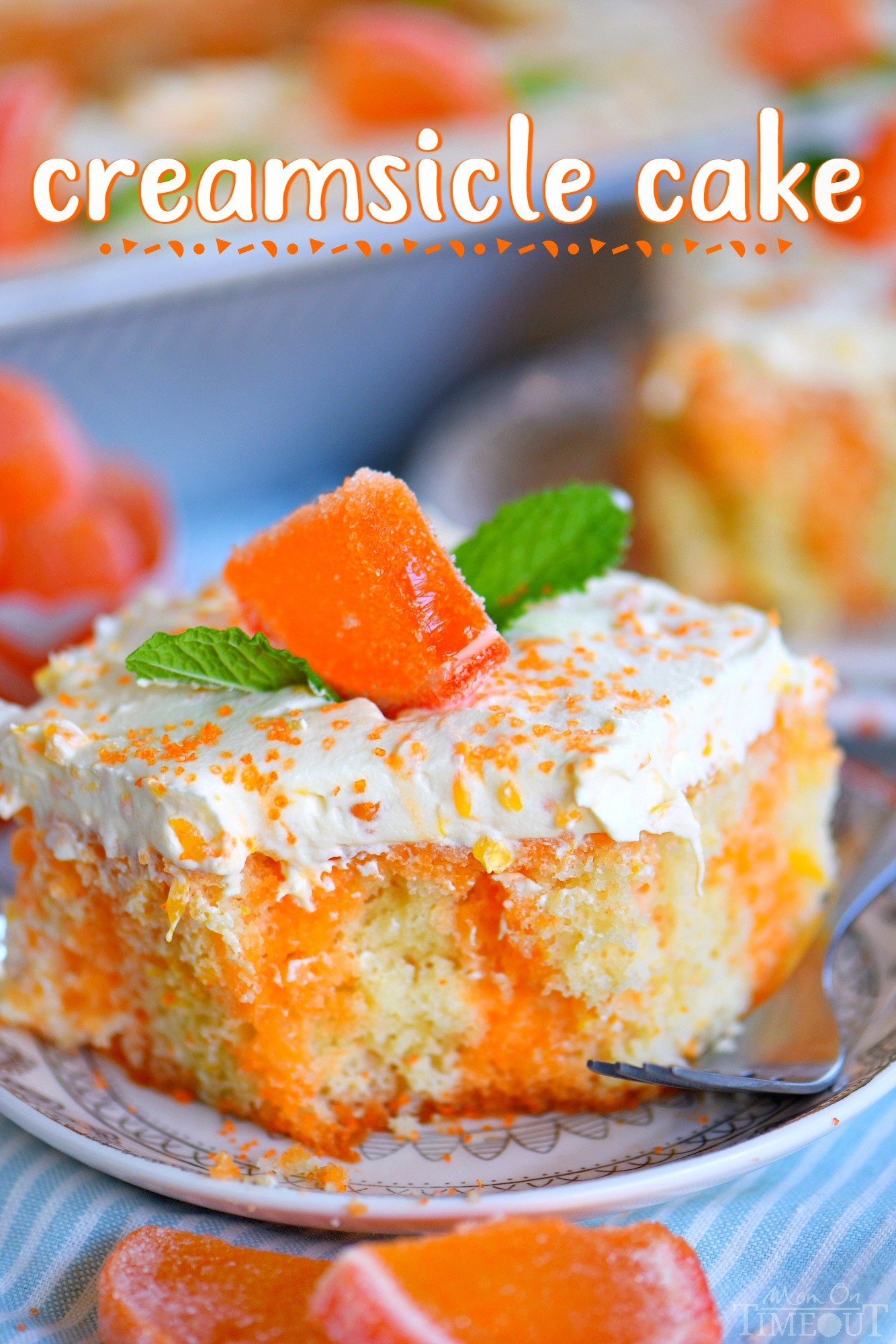 I finally caught up! So I will end this year's A-to-Z challenge with another yummy delight involving some orange zest: Orange Creamsicle Cake! Trish created and featured this recipe on her blog "Mom on Time Out".
"Creamsicles have always been one of my favorite summer time treats. That combination of orange and vanilla is just so magical! Today I've recreated that magical combination in cake form. "

Trish
Yes, I know exactly what Trish means when she says this! I remembered when I first bit into an orange ice cream dream bar one hot summer day. It was a great taste combo. I haven't made this cake yet, but I do enjoy baking with citrus. Oranges are one of my favorite fruits. I might try to bake it for next year's blogger's bake-off. It seems that I will collect recipes along the way!
Orange Creamsicle Cake Recipe
COURSE: Dessert
CUISINE: American
PREP TIME: 10 minutes
COOK TIME: 28 minutes
TOTAL TIME: 38 minutes
SERVINGS: 24

INGREDIENTS
Cake
– 15.25 oz boxed vanilla cake mix
– 3 eggs
– 1 cup Almond Breeze Vanilla almond milk
– 1 tbsp orange zest
– 3.4 oz orange JELLO
– 1.25 cup boiling water
– 1.3 cup fresh squeezed orange juice

Frosting
– 15 oz can of mandarin oranges (do not drain)
– 3.5 oz package vanilla instant pudding mix
– 8 oz Cool Whip

INSTRUCTIONS
Vanilla Cake
– Prepare cake mix according to package directions, substituting vanilla almond milk for the water and adding the orange zest. (Your exact measurements may vary slightly depending on the brand of cake mix you use.)
– Bake using package directions. Remove from oven and let cool on a rack for approximately 10 minutes.
– Use a skewer to poke holes in the top of the cake.
– Place orange JELLO mix in a heat proof bowl and slowly add boiling water. Whisk until the JELLO has completely dissolved.
– Stir in fresh orange juice.
– Carefully and slowly pour JELLO mixture over the top of the cake. Refrigerate for at least 3 hours.

Mandarin Orange Frosting
– Beat mandarins and pudding mix together until combined.
– Gently fold in the Cool Whip or whipped cream until incorporated.
– Spread on cooled cake.
– Refrigerate for at least 30 minutes before serving.

Previous Posts in 2019 A to Z Challenge 
A B C D E F G H I J K L M N O P Q R S T U V W X Y Z